Shiba Inu token traded at $0.000000000056 in 2020, it has really come a long way. The token ended 2021 with a figure of $0.00003337 – an increase of 59,000,000% from the beginning. To put this into perspective, if you invested $2 in Shiba Inu at its inception you would have become a Millionaire in just 60 weeks. These astounding stats were captured bit by bit on the chart, with SHIB trotting its way amongst the crypto elites and now the world's 15th largest token by market cap.
This sporadic jump has sparked an old debate amongst its ever-increasing hoard of supporters- will Shiba Inu ever touch $1? Before running up some numbers, let's first rewind the clock and see how the moonshot vision is one of the most beloved projects within the crypto community.
Also Read: Shiba Inu (SHIB) Unbothered By Bitcoin Crashes, Ready To Launch Its Own Metaverse – 'Shiberse'
2021 was a breakthrough year for meme coins and one coin in particular – Dogecoin. In an attempt to replicate the phenomenal price surge of heavily shorted companies such as Gamestop, the Reddit community stretched out to the crypto market by pouring investments into Dogecoin. The debacle was noted by Tesla CEO Elon Musk, who instantly became a proponent of Dogecoin.
What followed in the next few months was game-changing for the crypto markets. No longer did a crypto project need to be backed by large financial institutions and wealthy traders. The average, run of the mill investor could also participate in generating organic wealth for their token of choice. Fast-forward a few months and Shiba Inu's popularity spiked after Elon Musk drew the herd mentality to another meme-inspired token.
I'm getting a Shiba Inu #resistanceisfutile

— Elon Musk (@elonmusk) March 14, 2021
Since then, Shiba Inu's community has grown by large numbers while the project makes new headlines every single week. But getting back to the matter at hand, can these impressive numbers push Shiba Inu to a $1 valuation? If that were to happen, Shiba Inu's market cap would touch nearly $550 Trillion. That is almost 6 times greater than the world GDP, which was $94 Trillion as of 2020 end. To shed a more realistic light on the argument, it's important to note Shiba Inu's burn mechanics.
SHIB to $1?
The only way Shiba Inu can touch $1 right now is through constantly burning tokens from its circulating supply, collective buying amongst investors, or a combination of both. As per Shibburn, around 46 Million tokens were burned over the last 24 hours, while the total tokens burned since its inception amounted to over 410 Million.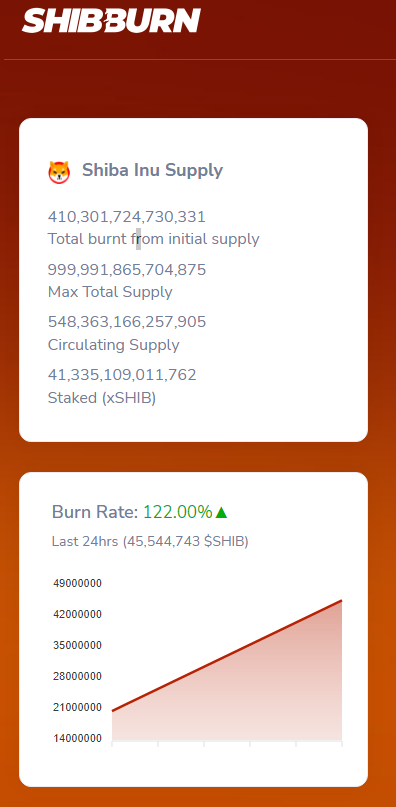 Source: Shibburn
Even at the current rate, it would take up to 40 years to burn just 1 trillion SHIB tokens, which would barely make a dent in SHIB's circulating supply of 548 Trillion. Since the laws of supply and demand dictate that the price would rise once supply is reduced, those carrying SHIB tokens would also be incentivized to keep HODLing rather than burn them.
READ ALSO: Shiba Inu Got A Huge Surprise For 2022; It About To Change The Whole Crypto Game
Moreover, considering the recent weakness in the broader market, buying apatite is severely weak amongst crypto investors at the moment. Now, there are talks of a potential Robinhood listing, and should one go through it would be a major achievement in terms of growth and popularity. However, it is still very unlikely that Shiba Inu would get anywhere close to $1 anytime soon. At the time of writing, SHIB traded at $0.00002208, up by 3% over the last 24 hours